Developing a mobile website today is definitely a tough task. With the abundance of devices and screen sizes available, you need to ensure that it is responsive and adaptive. Even if you take the mobile-first approach to design and develop your website, testing it thoroughly across different screen resolutions is more crucial.
Source
As you can see that website traffic from mobile devices is more than 50% now and is going to scale up in the future. The need for businesses to get equipped with mobile-optimized websites is very clear.
Follow this guide to get a complete understanding of the importance of mobile websites, effective strategies to build a mobile-friendly website, and most importantly, how to test your mobile websites effectively. This guide will help you scale up your mobile website testing process.
For most people, the first thing they look at when they wake up is the mobile screen, and the last thing they see before going to bed is the mobile screen. So to say that it's important for business would be an understatement.
But even though it's a well-known fact, many business owners are still designing and developing websites for desktops and then trying to make them work well on mobile. While in reality, it should be the other way round!
Learn why mobile-first design is important and how adopting this approach would make your mobile website testing process much easier with Mobile-First Web Design: Why You Should Make It A Priority In 2021?
How mobile app only approach can cause 10% loss in sales
Within three days of the mobile app being installed, the average app loses 77% of its daily active users. Within 30 days, this number increases to 90%. Within 90 days, this number reaches up to a staggering 95%.
App developers may have a chance to work their magic, but the reality leans toward the mobile web. For a much more significant effort, businesses see less than a third of the conversions from apps than they see from mobile websites.
Read more on how the Mobile App-Only Approach Can Cause 10% Loss In Sales.
Reduce Customer Churn & Drive Engagement
Given the importance of UX, it is essential to think hard and plan ahead of time about your website's look and feel. The challenge is that your users can view your website from 'any' device. And the complexity of design grows manifold considering the plethora of devices available in the market, especially mobile.
The ubiquity of mobiles has revolutionized the way we access the web. A website's mobile UX is the first impression of a brand to most of its users. As a business leader, you would want to capitalize on the first touchpoint to leave an everlasting impression.
Learn more on how intuitive Mobile Design can improve customer experience.
How Mobile-Optimized Websites Can Drive Sales & Conversions
Your website does not have to be black and white, but a bit of rework can go a long way in making it suitable for mobile devices. Recently, Revelry relaunched its eCommerce site with an updated platform and smaller images. Now, the loading time is four times faster, the bounce rate is down by 8% percent, and the conversion rate is up by 30%.
To maintain a competitive edge and get better results out of your online business, it has become increasingly important to deliver an optimal user experience over different mobile devices & network conditions.
Read our blog Mobile-Optimized Web Experience Drives 30% More Sales & Conversions to learn the tips and tricks of mobile optimization.
No matter where your customers are, you have to be there for them. Smartphones of today allow for a broad range of features, giving customers a similar experience to one they would get on a computer or laptop. The use of mobiles and tablets is on the rise. A majority of users can be found accessing your site using these devices, and you may have to bounce them to a desktop version in case they are unable to access it. To avoid any type of issues, you need to make sure that your app will work on every device you are targeting.
Does your website offer a good mobile view of the website? It might look good to you but have you thought about this question from a customer's perspective? If your customer isn't happy with the mobile view of your website, then it isn't a mobile-friendly website. Period.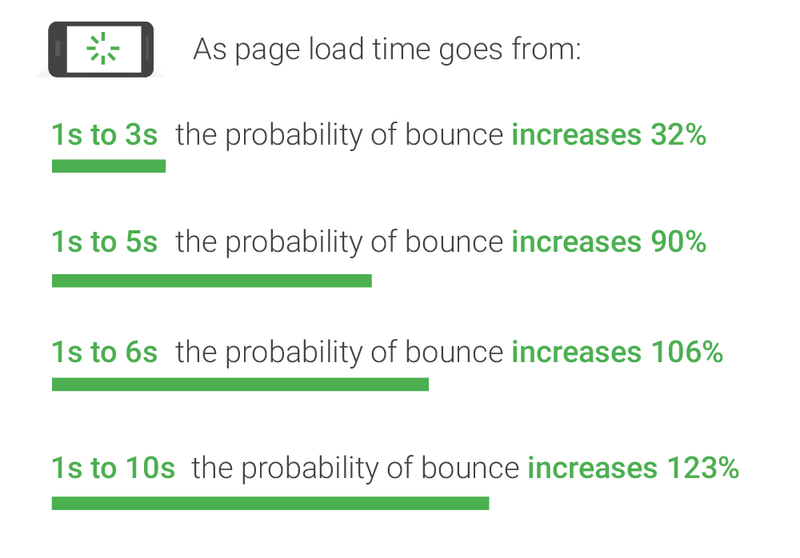 Source
Mobile users do not spend time finding what they need on the entire website. They want results immediately and within seconds (almost at first glance). This blog will help you understand the design pain points and guide you through building the most user-friendly mobile website.
Typography Tips That Will Change The Way You Design Mobile Web
Although designers spend a lot of time deciding the graphics, interface, and style of the page, an equal amount of time is required for choosing the perfect typography. You need to focus more when it comes to mobile website testing of typography.
Testing typography comes with two major challenges – available space and typographic size.
It is important for a website to be optimized in such a manner that it gets rendered properly on various mobile devices. Even if you are creating a new website, instead of developing a separate one for mobile users, it is ideal for creating a responsive website that fits properly on all kinds of devices.
Mobile-first is not just limited to having a responsive website or native apps. You also need to think of a solution that would cater to both needs. If PWAs can be built with such ease, providing hassle-free installation and all the value that comes with a website or native apps at a cheaper cost, why not implement it right away?
To find an answer to that, read the blog and understand the basics of PWAs, along with some key differences between PWAs, Native Apps, and Responsive Web.
Testing A Progressive Web App
Developing a progressive web app today is feasible and works faster than your mobile websites. However, how would you ensure that the progressive web app works fine across all the devices, browsers, and other features? Well testing your progressive web apps is most crucial to ensure there is no breakage in user experience.
How often do you get confused between Emulator vs. Simulator for mobile testing? Most of the time, we end up using them interchangeably. Irrespective of the working experience as a tester you may have in the industry. The difference between Emulator vs. Simulator is often neglected.
This blog will help you understand the differences between emulator vs. simulator for mobile testing, challenges faced in mobile testing, and which one to choose.
Testing Your Websites On iPhone
With the ever-growing user base, Apple strives to ensure optimized performance and impeccable user experience across all iPhone devices. However, developers might encounter various challenges while they endeavor to create responsive designs for websites.
Mistakes can be inevitable, no matter how good your testing strategies are. Hence, it becomes impeccable to debug websites on the iPhone before making it live for all users.
Having a mobile web design that's faster and efficient to function across the plethora of devices is a challenge that organizations face. What's important here is to ensure through rigorous testing that your website provides a unified experience.
However, testing on such a wide array of devices and continuously is complex! In this blog, you will learn more about the approach for mobile web testing, different testing strategies, and tools that can ease out the complexity of your testing process.
Organizations are developing websites or applications, keeping the mobile-first approach as their primary objective. Regression testing of mobile websites is very important to avoid sudden crashes or breakage of some important functionalities when the live application is used by an end user, especially when it can be accessed by different mobile devices.
When testing your mobile website speed, you must keep in mind that monitoring your website performance on a high-speed internet connection will not provide you accurate results. Why? Because mobile is a different story – it's not like a desktop on which people usually access the internet on a high-speed connection.
In order to make your website mobile-friendly, it's necessary to execute mobile website testing and check its responsiveness across various smartphones and tablets.
But, even after having access to smart techniques like mobile-first web design, it is not that easy for developers to perform mobile website testing, especially due to the variety of smartphones available in the market.
LT Browser is a developer-friendly browser that helps analyze design mistakes, provide a real-time view of multiple devices, and help developers understand how the web application might perform in the market.
Using LT Browser, you can streamline UI UX development, test content placement and alignment, assess visually heavy websites on different screen resolutions, and generate performance reports of your mobile websites.